MAKE YOUR OWN!
PINE CONE BIRD FEEDER, TREE COOKIE ORNAMENT,
AND HONEYSUCKLE WREATH, ALL WHILE ENJOYING HOLIDAY
MUSIC, HOT COCOA AND COOKIES BY THE WARM FIRE!
Date: Friday December 12th at 5pm
Cost: $3 Per Person or $8 Per Family (Signup Required – ONLY 24 SPOTS AVAILABLE)
HOW TO SIGN UP? – PLEASE CONTACT RANGER DAVID BURMAN
410-222-2174 OR RPBURM01@AACOUNTY.ORG
ALL PROCEEDS WILL GO TOWARDS THE FRIENDS OF QUIET WATERS PARK ENVIRONMENTAL EDUCATION INITIATIVE.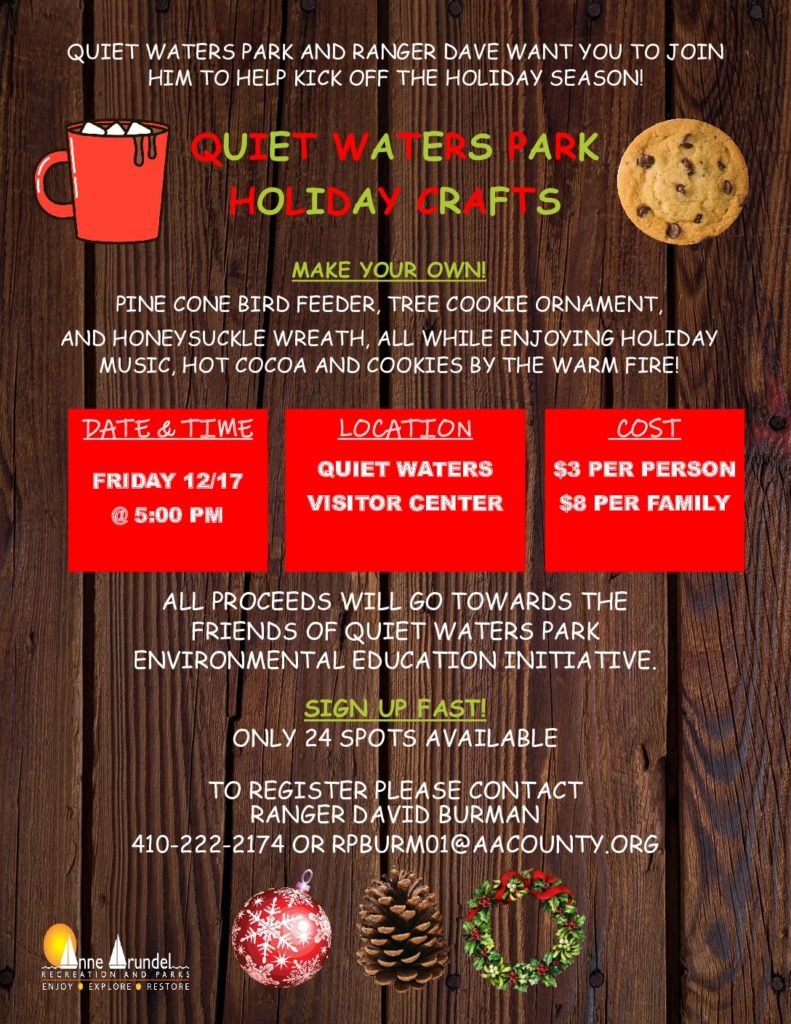 The 7th annual FQWP Photo Contest was a huge success! There was an excellent turnout with 37 entries submitted by 14 photographers! The work featured views at the park, herons, flowers, wildlife and families enjoying the park during all seasons. Several photographers returned for their 3rd, 4th or 5th time and many others were new. All were welcomed with open arms! It is with great pleasure that I thank everyone who participated this year!

The judges from the Art Committee were David Diaz, Ottilie Habercam and Marietta Schreiber who reported that selection was difficult because of the large number of outstanding photos. Many thanks to them for their good work! Gail Olmstead, Photo Contest Chair.
These photos will be used to create the 2022 Friends of Quiet Waters Park calendar which will be sent to all Blue Heron Society and Osprey Level Members in December/January. To download a copy of the Winners of the 2021 Photo Contest, click here.