Sculpture at Quiet Waters Park

This program is dedicated to the enhancement of the park experience for all of its visitors. Since the park's founding in 1990, numerous sculptures have been installed, most on a rotating basis. All sculptures are chosen by jury. The artists have come from throughout the United States and even one from the United Kingdom.
The program is sponsored by the Friends of Quiet Waters Park with funding assistance from BB&T Bank, the Arts Council of Anne Arundel County, the Maryland State Arts Council, and Nordstrom's of Annapolis.
Our African Shona sculptures are a generous gift from Ben Bernstein of Philadelphia and part of our permanent collection. They are located on the second floor of the Visitor's Center.
Pterosaur I by John Parker of Glenside, Pennsylvania
Installed in 1993 Medium – Steel
Located in the meadow near the playground
Ariel by Daniel Kainz of Allentown, Pennsylvania
Installed in 1998 Medium – Granite
Located in the triangle between the playground and the pond
The Courtship by Pam Foss of Kennedyville, Maryland
Installed in 1990 Medium – Bronze
Located on the hilltop at the Visitors Center
This permanent installation represents the majestic symbol of the park. The Great Blue Heron is a Chesapeake Bay native.
Peripatetic by Joe Mooney of Philadelphia, Pennsylvania
Installed in 1994 Medium – Steel
Located in the Formal Garden
This is a permanent installation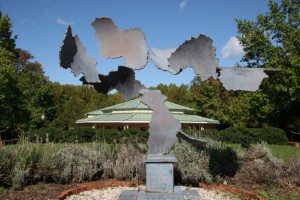 Waterbearers by Lizbeth Sabol of Annapolis, Maryland
Installed in 1996 Refurbished in 2006 Medium – Steel
Located in the Formal Garden
Gaia Torso by Claire McArdle of Annapolis and Carrara, Italy
Installed in 2001 Medium – Stone
Located in the Formal Garden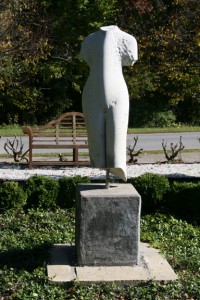 Shackle by Tom Severa of Greensboro, North Carolina
Installed in 1996 Medium – Steel
Located in the Formal Garden
Poseidon's Gift by Rick Clement of Washington, D.C.
Installed in 1995 Medium – Stone
Located on the South River Overlook
Whirlwind Ascending by Mike Patton of Baltimore, Maryland
Installed in 1996 Medium – Steel
Located in the Formal Garden
Black Bart by Alan Waters of Manchester, England
Installed in 1998 Medium – Steel
Located on the lawn next to the Visitor Center parking lot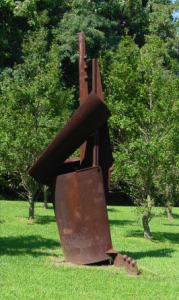 Vulnerability by Virginia Sperry of Eldersburg, Maryland
Installed in 2007 Medium – Welded Steeo
Located at the fork of the Wildwood Trail
Requiem by Kevin Forest of Buckingham, Pennsylvania
Installed in 2007 Medium – Steel, River Stone
Located between the pond and the reflecting pool
Truncated Pachyderm by Jeremy Welsh of Annapolis, Maryland
Installed in 2007 Medium – Fiberglass, epoxy on marine plywood
Located near the South River parking lot
The Missing Piece 2 by Brett Hunter of Alfred, New York
Installed in 2007 Medium – Granite, Steel
Located on the front lawn of the Visitors Center
Upheaval by Mark Warwick of Gettysburg, Pennsylvania
Installed in 2007 Medium – Steel
Located on the main road into the park on the left after the fork in the road
Mandalic by Brendan Hughes of Baltimore, Maryland
Installed in 2007 Medium – Stone, Steel, Bronze
Located in the Formal Garden