MAKE YOUR OWN!
PINE CONE BIRD FEEDER, TREE COOKIE ORNAMENT,
AND HONEYSUCKLE WREATH, ALL WHILE ENJOYING HOLIDAY
MUSIC, HOT COCOA AND COOKIES BY THE WARM FIRE!
Date: Friday December 12th at 5pm
Cost: $3 Per Person or $8 Per Family (Signup Required – ONLY 24 SPOTS AVAILABLE)
HOW TO SIGN UP? – PLEASE CONTACT RANGER DAVID BURMAN
410-222-2174 OR RPBURM01@AACOUNTY.ORG
ALL PROCEEDS WILL GO TOWARDS THE FRIENDS OF QUIET WATERS PARK ENVIRONMENTAL EDUCATION INITIATIVE.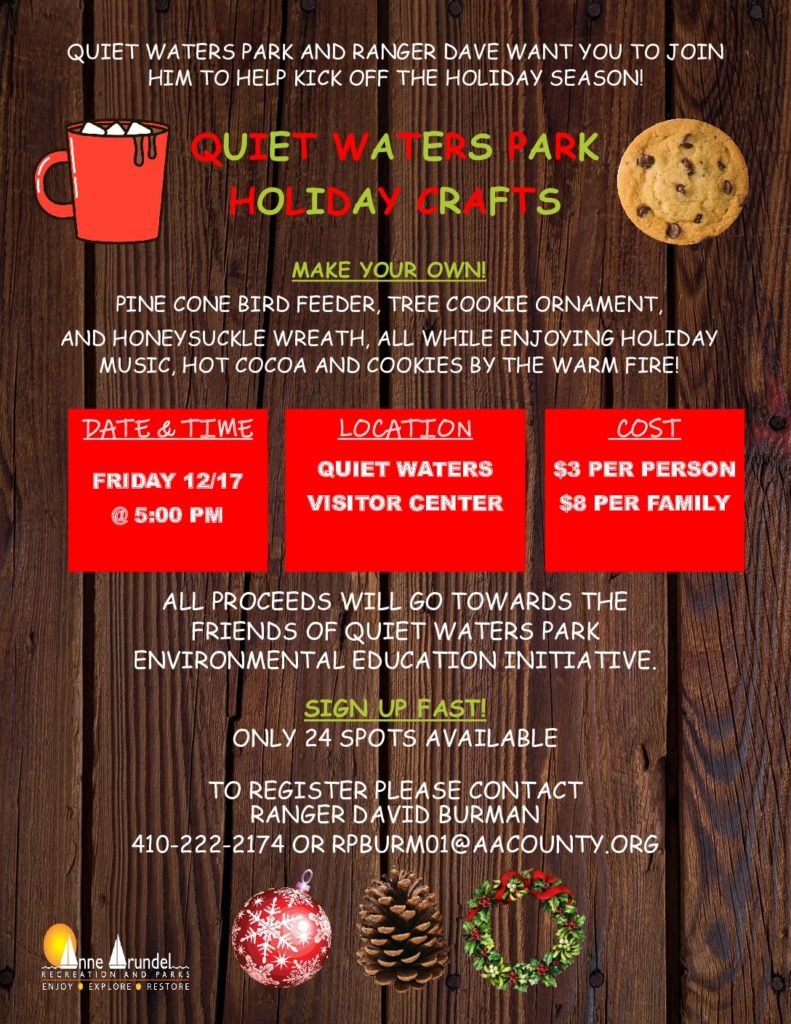 Opening November 18th, this invitational group exhibition offering original handcrafted art for sale to the public. All items may be taken with you upon purchase, creating an excellent opportunity for holiday shopping. See Event Details.
UPDATE:
A member of the Fine Arts Committee will be available to assist shoppers on the
following days:
November 28: 12 pm-4 pm
December 05: 12 pm-4 pm
December 12: 12 pm-4 pm
December 19: 12 pm-4 pm
Opening Reception will take place on Sunday, November 21, 2021 from 1:30 to 3:30 pm at the Visitors Center at Quiet Waters Park. Park entrance fees will be waived for the Reception only.